Band Staff
---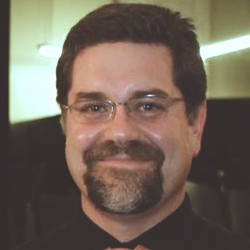 Sean C. Noah
Director of Bands
---
Sean C. Noah joined the McGill-Toolen family in 2010 when he became Director of Bands. Mr. Noah attended the University of Alabama where he earned a Bachelors of Science in Instrumental Music Education and later received his Masters degree in Music Education from Boston University.
During his time at the University of Alabama, Mr. Noah marched in the famous Million Dollar Band. Apart from a promising college career, he played in the Southwind Drum and Bugle Corps before serving as Assistant Percussion Instructor for the University of Alabama and the University of Alabama in Birmingham (UAB). Mr. Noah as also served as Percussion Caption Head for the Scenic City Drum and Bugle Corps. Most recently Mr. Noah served as Percussion Caption Head and Assistant Corps Director of Southwind Drum and Bugle Corps. When he's not arranging music or designing drill sets, Mr. Noah has instructed clinics alongside other noteworthy figures such as Ralph Hardiman, Thom Hannum, Arturo Sandoval, Jamey Aebersold, Gerald Welker, Frederick Fennell, and more.
Mr. Noah has been the Director of Bands at Hazel Green High School, Bibb County High School, and Director of Bands and Orchestra at Western School of Environmental Science in Baltimore, Maryland. While under his direction, marching and concert programs at these institutions and our own earned high accolades and superior ratings at the district and state levels. Presently, Mr. Noah has led the McGill-Toolen Band to a series of top ratings in our competitions and has contributed to an overall expansion in terms of membership size. A native of Indianapolis, Indiana, Mr. Noah calls Alabama home and resides there with his wife, Laura Noah, who is the Principal Timpanist for the Mobile Symphony as well as a freelance percussionist.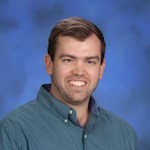 Trey Krause
Assistant Director of Bands
Campus Ministry
---
Mr. Krause, a graduate of Louisiana South University, hails from McGill-Toolen, where he spent his high school days in the band as well. When he's not embroiled in a task as our Campus Minister, he helps Mr. Noah as assistant director.
Aimee Gueret
Color Guard Director
---
Aimee is our Color Guard Director and will be leading the color guard in many new and exciting directions. Ms. Gueret s a former member of the McT Color Guard, Million Dollar Band Color Guard, and Alta Maera Winter Guard. Aimee holds degrees in Bachelor of Arts Communication and Bachelor of Art from The University of Alabama.
[/one_half]
Charles Porter
Director Emeritus
---
Mr. Charles "Buddy" Porter is our Director Emeritus of the elementary schools for the Arch-Diocese of Mobile. In his position he coordinated the band program in nine elementary schools for 30+ years. He has been in music education for the past 42 years. He received his music education degree from the University of Southern Mississippi. He taught in the state of Mississippi for many years before returning to his home town of Mobile in 1975. Mr. Porter is well-recognized as a trombonist and music educator.
[/one_half]
Marian Hall
Prep Band Director
---
Mrs. Marian Hall is Director of the Prep Band Program. She oversees the instrumental music in 6 different elementary schools. Mrs. Hall is well known for her skill with the flute. She attended the University of South Alabama and earned a degree in Music Education.
[/one_half]
Rebecca Reinhardt
Assistant Director of Bands
Associate Prep Band Director
---
Assistant Director of Bands/Associate Prep Band Director
[/one_half]
Laura Noah
Director of Percussion
---
Laura Noah is a freelance musician residing in Mobile, Alabama performing with several Orchestras along the Gulf Coast. Mrs. Noah is the principal timpanist for the Mobile Symphony since 2007 and the Meridian Symphony since 2012. She has spent a decade as principal percussionist for the Gulf Coast Symphony and section percussionist with the Pensacola Symphony. Mrs. Noah performed with Soundwind Drum and Bugle Corps and the 1999 World Champion Santa Clara Vanguard. She offers lessons to aspiring percussionists.
[/one_third] [/one_half]
Adrian Eves
Web Design
---
Adrian Eves is a software engineer from Auburn, Alabama. In addition to web and software development, he has helped instruct the McT Band front ensemble for at least five years. A graduate of McGill-Toolen in 2012, Adrian played mallet percussion in high school and has helped teach at band camps in the past.
[/one_third_last]
©McGill-Toolen Catholic High School Band 2022